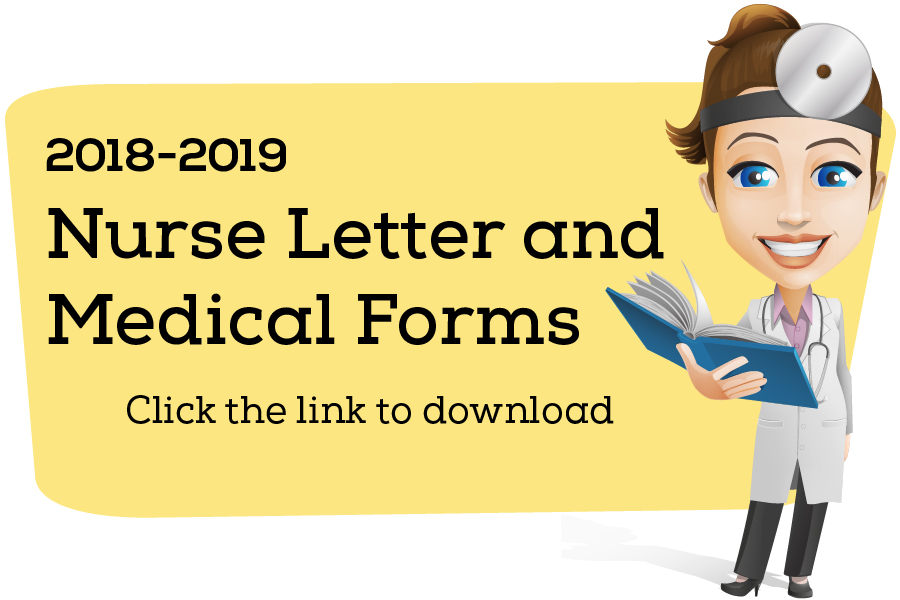 Nurses Letter and Forms 2018-19 link to PDFs
July 2018
Dear Parents,
We hope you are enjoying your summer break and are finding some rest and relaxation with your
family. It is hard to believe that in a few short weeks we will be back in school! We are excited
to welcome the students back as we partner with you to help them be healthy and ready to learn.
If you could please email any medical changes to the email addresses below, this will allow us to
have the most up-to-date information regarding the health of our students. In addition, please
review the policies online regarding student health concerns. Also, remember that hard copies
of the health forms and Medication Authorizations forms must be turned into the office by
the first day of school. (Forms attached) Without these forms, your student will not be able
to attend any off-campus functions. Thanks for helping us keep your student safe.
Regarding medications: NO MEDS will be given to students without proper paperwork and this
paperwork has to be turned in new each year with the physician's signature.
* If you have a student with allergies requiring an Epipen or asthma requiring an inhaler, please
be sure to have your Healthcare provider sign the appropriate authorization forms.
* In addition, please remember that NO Medication (over the counter or prescription) will be
given without the signature of both a parent and an authorized Healthcare provider (MD, PA,
or APRN). There are no exceptions to this rule as it is in compliance with NC state law. This
includes the rule that students are not allowed to carry and self-administer any medications
without a signed authorization on file at the school. Therefore, please complete the Medication
Authorization form with both parent and medical provider signatures.
* All forms may be found on the website. There is a School Nurse page available on each of the
"Connections" sites.
Regarding Illness:
* Please review the "Guidelines to Common Illnesses" found in the Student Parent Handbook
and also available on the School Nurse page of the website. We follow these guidelines in order
to maintain the healthiest environment possible for all students.
Finally, please call us if you have any concerns regarding your student. School Nurse Phone
(704) 915-5880. We strive to help the students be comfortable while at school so they can learn.
All forms should be completed and returned by the first day of school. Enjoy the remaining
summer fun!
In His Service,
Sharon Spear RN